Cocktail drinkers have known for years how the taste, experience and enjoyment of their favorite beverages are improved by serving them from the best cocktail glass sets. This is down to a combination of the visual aesthetic and the affect on the flavor profile that the shape, weight, longevity and quality afford. In this article we review the best cocktail glass sets you can buy, which drinks they are ideal for and just what size glass you should go for. After all, a small glass won't leave you with much of a cocktail to drink if it includes ice!

What influences the type of glass you should use? Your ice-cold cocktail should stay exactly that – ice-cold. Bear in mind that if you use large glasses your drink will slowly warm up and harm the flavors. Thin-stemmed Martini glasses with shallow, angled sides may look elegant but, in a home bar, those stems break easily and you can spill more over the edges than you drink. Tall glasses help keep your cocktail cold, and short old-fashioned glasses are very stable.
So let's go through our choices for each type of glass. Oh and we've selected a few that break the mold; there are some beautiful-looking designs out there!
Martini Glasses
The famous lines of the Martini glass are recognized worldwide thanks in no small part to the James Bond film franchise. It's no surprise that the Martini glass has an impressive number of manufacturers vying for supremacy in this hotly contested market.
Libbey Vina Martini Glass set

Our first set is this fine offering from Libbey and their Vina range. This is a well-priced set of six Martini glasses made right here in the U.S. of A. They are made from glass rather than crystal which helps keep the price down. Each glass has an impressive 12 ounce capacity which we like to think is so that you're not as likely to spill any rather than it's intended for you to fill it to the brim!
The Vina is 7-3/8 inches tall and possesses a thin rim. Its appearance suggests that of a fine dining experience. These glasses are dishwasher safe and are very clear. While you can clean them in a dishwasher our personal preference is always to hand-wash so you can be sure of a spotless finish.
Despite their relatively low price these glasses are robust and don't feel fragile. We accidentally dropped one from our lap to the floor and it survived. (Our carpet is another matter!)
[amazon box="B000BRZS4A"]
Riedel Vinum Martini Glass set

Riedel has a well-deserved reputation of making some of the finest lead-crystal stemware in the business. The Bavarian crystal is – crystal clear – and these look every inch a quality product. Riedel has been manufacturing the Vinum range for over 30 years and it popularity hasn't waned. They are machine made rather than manually blown and this helps keep the price down.
They sit 5-7/8 inches tall and have a total capacity of 4-5/8 ounces, a respectable size for the regular cocktail drinker. The rim diameter is just a whisker under four inches. Riedel's advertising proclaims 'It's 5 o'clock somewhere!' With these Martini glasses you can be comfortable serving late-afternoon drinks from your home bar and expect to receive compliments in your choice of elegant stemware.
The glasses are well-made and have a good feel in the hand. The stems are thick enough to make you confident that they won't snap while still being slim enough to look stylish. These glasses need hand-washing and hand-drying to make sure they look their best.
[amazon box="B000W06570″]
Lenox Tuscany Classics Martini set

(Editor's choice)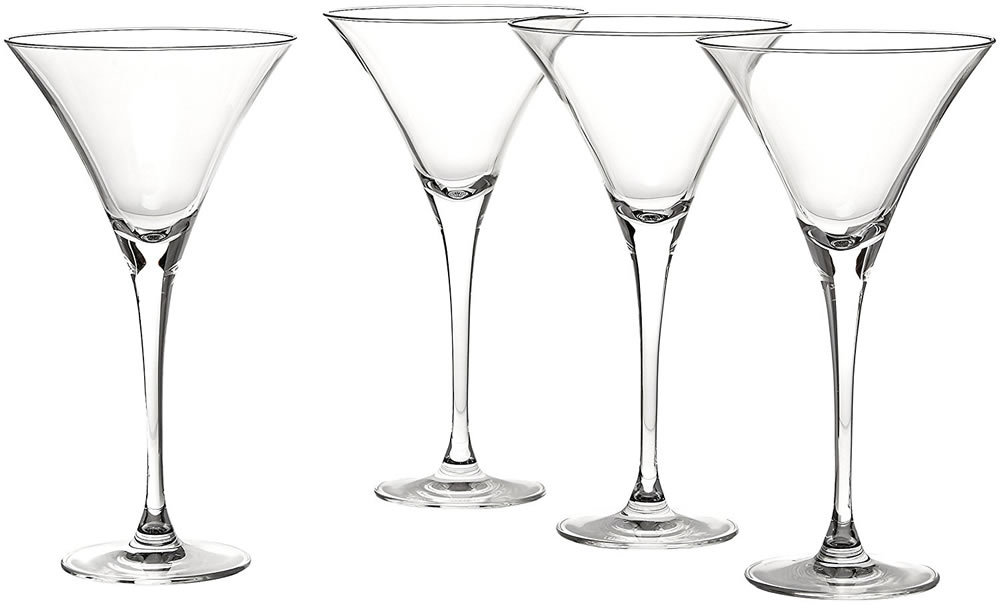 Without a doubt these are some of the most beautiful Martini glasses available. Their smoothly sloping curves lead down to the stem rather than branch off at a sharp angle. Our reviewers found no sign of any seams on the stem or the glass – a sure sign of quality. The Tuscany Classics are made of European lead-free crystal which is safer to drink from than lead crystal. Putting this in perspective though for lead crystal glasses; the FDA's line is that you shouldn't store acidic drinks or drink from lead crystal daily to reduce the risk of lead poisoning. Once in a while is fine. For worry-free imbibing, these Tuscany glasses are ideal!
They can hold 10 ounces – no mean feat, easily enough for quite a substantial cocktail. At 8-3/4 inches and five inches across, the Tuscany glasses cut an imposing shape in your home bar and they are one of we readily recommend. We also like to praise how well Lenox package their product – our review parcel was secure and there was no damage to any of the glasses. Lenox also offer a replacement warranty should you have any breakages, this is a welcome guarantee and some measure of the company's faith in the resilience of their product.
Editor's choice
Large and in charge is how we see the Lenox Tuscany – lead-free crystal, beautiful lines and a great drinking experience, they're hard to beat!
[amazon box="B00006J010″]
Libbey Stemless Martini Cocktail Glass set

These stemless cocktail glasses are very special. By foregoing the stem, their centre of gravity is very low and this makes them particularly stable. 3.5 inches is a very short glass! And they're not lightweights either; the Libbey can hold 8 ounces with its wide 4-1/4 inch diameter and 2 inch base. These great-looking stylish glasses are quite something. The Libbey glasses are made in the USA using a hard-wearing, clear glass. They are at home in any classy bar where a Martini or cosmopolitan would be quaffed with élan. Again, the Libbey is classed as dishwasher-safe but we would always add the caveat of hand cleaning to prevent damage and to give a smear-free finish.
The glasses are a perfect blend of tradition and modern and have a nice weight and feel to them. Their strong design means that they are unlikely to pick up any damage in transit either! It's a matter of personal taste but we would have preferred a thinner rim but this thicker glass is in-keeping with the overall design aesthetic.
[amazon box="B014J0JNV8″]
Coupe Glasses
Pronounced 'coop', these are delicate, Martini-glass-resembling vessels. Their difference is that they have a rounded lip which makes them slightly less easy to spill and also makes them look classier. The coupe glass is a classic and any serious home bar owner should own at least one of these sets.
Palais Glassware Clear Glass, Margarita Coupe glass set

Arguably the most commonly served cocktail in a coupe glass is the Margarita. And nowhere would that drink be more at home than in the Palais glass. Deceptively expensive-looking but with a great value price, the Palais is the archetypal classic design. Thanks to what the company calls innovative 'glassmaking techniques' the stems are ramrod straight – yet delicate – and the rim is perfectly smooth and rounded. This lends itself to you drinking it from the inside of the rim meaning you can take delicate sips rather than how you have to gulp it in bigger amounts from less well-produced products. These glasses can hold 8 ounces of your beverage of choice.
We received two sets of four glasses and both are arrived in excellent condition and no breakages. Despite being at a lower price-point these are solid glasses with a well-balanced base that are reasonably tip-resistant. One plus to the flatness of the bowl is that they can be stacked – a boon for those of us who have limited space.
The manufacturer's information states that these vessels are both microwave and dishwasher safe. While this is undoubtedly true we would like to suggest that hand-washing is still the safest way to go; the sides of the bowl are playfully thin and we would prefer not to take the risk.
[amazon box="B01MXR62O3″]
Riedel Veritas Coupe Glass set

(Editor's choice)

Riedel is world leader in lead crystal over many generations. They produce finely made, light glasses that appear too fragile for everyday use. But Riedel's technical expertise in machine-blown glasses shines through and these ostensibly delicate vessels are actually more resilient than they first appear. There is something remarkable in how something so graceful can withstand similar knocks that would break a cheaper glass. This is not to say that the Riedel can be treated roughly, we think that it's among the most durable long-stemmed glasses on the market.
It has a capacity of 8 ounces which is good for a medium to large cocktail, and thanks to its hemispherical bowl shape it will remain colder than a typical Martini glass. Its solid base is the same diameter as the glass itself which lends itself nicely to being stable on your bar top. The set comes in a lovely presentation box and we would happily give this as a gift (and be equally happy to receive it!)
Editor's choice
We proudly give an editor's choice to the Riedel. In addition to the great quality and drinking experience we simply love how classy this glass makes you feel – something you just can't put a price on!
[amazon box="B00KMNFMDU"]
Libbey Speakeasy Coupe Glass set

Libbey is a renowned manufacturer of quality stemware. Their coupe glasses are no exception and this set has taken its design cues from the Prohibition era almost 100 years ago (1922 – 1930 history buffs). It's a departure from the Riedel glass which eschewed excess; the Libbey has strong lines, a sculpted waist where the stem meets the bowl, and tapering that swells and subsides right from the base. And speaking of the bowl, it is here where simplicity returns with a clean, lightly tapering hemispherical design that exclaims that it can do subtle too! This glass has a capacity of 7 ounces which is sufficient to hold your medium to large cocktail. At 6 inches high the Libbey makes a bold – almost architectural – statement to your home bar collection.
This set comes complete with four black paper coasters and a black plastic bottle spout – handy little accessories to complement your home bar collection.
Our set was well-packed with cardboard and bubble wrap. There is room for improvement but it would take a fair impact to break these.
[amazon box="B00BQ02XA8″]
Crafthouse Schott Zwiesel Tritan Coupe Cocktail Glass set

If you have a few more dollars to spend then we have to draw your attention to the Crafthouse etched Schott Zwiesel Tritan! This set of four is stunning to behold. The manufacturing company, Fortessa, has produced these designs from their very own champion mixologist: Charles Joly, James Beard award winner and Global Bartending Champion 2014. These lead-free crystal glasses use zirconium and titanium in the blend to be safe to drink from and to be particularly durable. In our experience the Fortessa range is robust and resists scratching, chips and hairline fractures. They also exhibit thermal shock resistance making them dishwasher-proof.
These glasses have a usable capacity of a healthy 9 ounces. A bit of extra science has been sprinkled into the mix courtesy of some 'effervescent points' that aim to reduce the amount of bubbles being produced in a sparkling drink hence increasing the cocktail bubbles' longevity. The angled bowl is perfectly realized so that it reduces the risk of spilling your margarita or Martini. And you already know that your ice-cold cocktail is at its best when crisp and chilled so why are so many cocktail glasses awkward to hold by the stem, forcing you to cup the bowl? These have just the right stem thickness to balance elegance with practicality and Mr Joly gets a bit thumbs up from us!
[amazon box="B01M1UYEM3″]
Nick and Nora glasses
'Everyone's favorite Mister and Missus', Nick and Nora Charles are a crime-fighting detective couple from Dashiell Hammett's novel 'The Thin Man' that was made into a popular series of films, sequels and a series. The pair delighted audiences with their wise-cracking, élan and sharp repartee: the classiness of the cocktail became synonymous with the pair and so the style of glass used in the film has since been christened 'Nick and Nora glasses'.
History Company Nick & Nora Martini Glasses set

The History Company has done it again with this faithful 'Thin Man' glass set. This is what we would call a 'proper' cocktail glass – it's classic and its capacity is just under 6 ounces. This means that you can quaff several cocktails without falling over drunk. Modern glasses tend toward much larger volumes which can be a little vulgar in polite society! These beautifully crisp and clear glasses are almost 6 inches tall and nearly 3 inches in diameter – a delightful piece of stemware. These are lead-free and their durability is down to a high heat-tempered rim which also gives it a fine tactile experience. Oh and chip resistance comes with as standard along with them being dishwasher-proof! The History Company has good standing as a manufacturer of top quality glassware and they proudly remind us how their goods are produced using only the best materials.
[amazon box="B0089P1VT2″]
Cocktail Kingdom Nick and Nora Glasses set

From Cocktail Kingdom comes this attractive set of six classic Nick and Nora glasses. They exude style and a certain beauty that crystal glasses harking back to this era do so well. These hold a respectable 5 ounces encouraging you to have smaller, more sophisticated cocktails and the advantage of perhaps a second or different one. Something that is not always advisable with a more modern large capacity glass!
What we love about Cocktail Kingdom's glasses is that they are produced for commercial use and this means you can buy with confidence in their endurance. The glass is a little thicker than most but they don't feel clunky or look unattractive.
They look great and clear following a hand-wash and they are, of course, dishwasher-safe as they are intended for commercial premises with a large footfall. So if you regularly serve cocktails or are planning a big celebration with lots of guests where the risk of accidental breakages is high we would place the Cocktail Kingdom's durable glasses on your most-wanted list!
[amazon box="B071VTSMCB"]
Collins/Highball Glasses
The distinction between Collins and highball glasses is starting to blur a little today. While both are tall, thin glasses, the Collins has straight vertical sides and the highball's vertical sides flare slightly towards the rim. The tall glass is favored by those who prefer ice in their drinks.
Paksh Novelty Italian Highball Glass set

The Paksh highball glasses are high quality European imports made in Italy. With a dash of ice in your cocktails these glasses will ensure your drink is crisp and fresh every sip. These are a timeless design, simple yet classic. The weighted base provides excellent stability and a pleasant tactile experience making you feel comfortable whether you're in a formal or an everyday setting. Our reviewers found the narrow cylindrical form to be good to grip regardless if it sweats. Knowing that it's lead-free too is a plus. Each glass is 6-1/2 inches tall and 2-1/4 inches wide.
Thanks to the simplicity of their design, we have no qualms about putting these through the dishwasher. Paksh says that they use fine grade sands and premium finishing glazes to produce such strong glassware and we certainly believe them. If you're making a cocktail that requires a lot of muddling then this sturdy glass is up to the task.
With a decent balance and a good heft these crystal clear highball glasses are a welcome addition to any home bar. The set of six we received were well packed and arrived in excellent condition.
[amazon box="B01LYZLO96″]
Old Fashioned Glasses
The Old Fashioned glass is the traditional short tumbler with a weighted base. Named after the eponymous cocktail this glass is a versatile vessel that can be used to serve all manner of cold and alcoholic drinks.
Paksh Novelty Italian Weighted Bottom Small Old Fashioned Glass set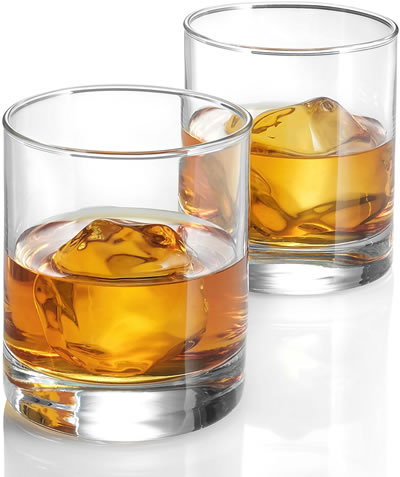 Our first example of an excellent Old Fashioned glass is another fantastic six-piece set from Paksh. These Italian lead-free glasses stand at 2-3/4 inch by 3 inch and hold 6-1/2 ounces of your favorite tipple. The company is so proud of their glassware being free of lead they are even sold as 'guaranteed 100% lead-free'. As with their highball set, this lowball set have a solid nicely-weighted base that withstands all the muddling you can throw at it. We had absolutely no worry that serving a cocktail on the rocks (ice) would cause any damage.
We could see the Paksh glasses being used for entertaining or everyday beverages. Their contemporary yet conventional design means they will never look dated and will always be practical. These European glasses are scratch-resistant and shatterproof. They are suitable for engraving and personalizing too should you wish to make a gift out of them!
[amazon box="B01MQDH2LK"]
Schott Zwiesel Tritan Old Fashioned Cocktail Glass set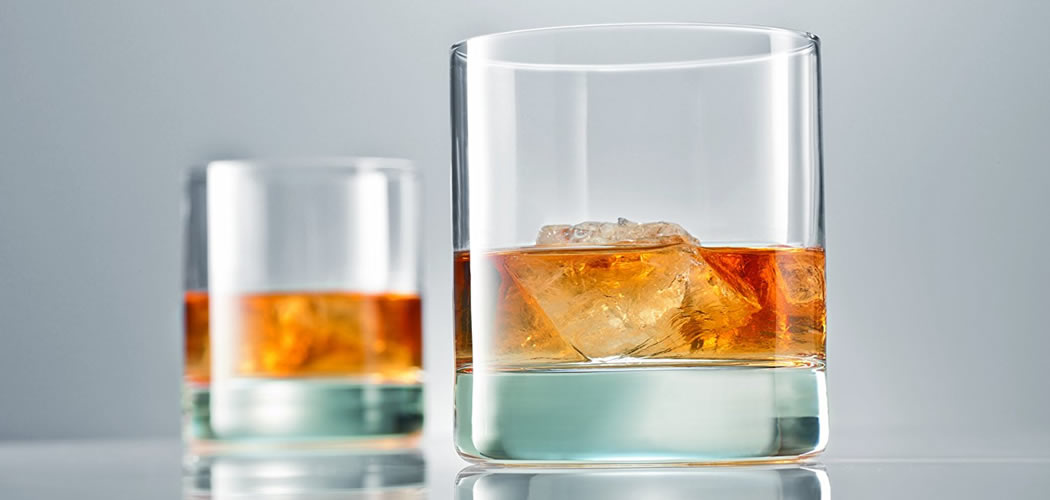 If you're looking for something that can hold a little more volume then this set of Paris glassware should definitely warrant your attention. These fine Schott Zwiesel lead-free crystal Old Fashioned glasses are stunning, sharp and always fashionable with their air of elegance and efficacy. Schott's Tritan crystal uses titanium and zirconium oxide in place of lead to make them thermal shock resistant and shatterproof. These cocktail glasses hold 9.5 oz of liquid and stand at just over 3-1/5 inches tall and 3 inches across. Schott's reputation for quality barware is backed up by their lifetime guarantee that these pieces will not chip, cloud or discolor.
These German glasses are dishwasher safe and, in our experience, extremely robust and durable. In terms of use, we all know how your glass can sweat when icy-cold cocktail is poured into it. Thanks to their size and weight these glasses sit nicely in your hand and, even when wet, you won't lose your grip on them. They are reassuringly heavy but not so much that they would cause your arm to ache from holding them. Drinking from the Schott is a pleasant experience, the rim is a good shape and it makes you feel quite sophisticated.
[amazon box="B002ACOQ10″]
Specialty/Novelty designs
Not all cocktail glasses conform to the typical designs. Many companies release funky shapes or their own take on a classic profile.
Ashcroft Old Fashioned Everest Whiskey Glasses

Ashcroft have taken the Old Fashioned glass and put a spin on it – literally. The angular, flared bases look spectacular and are offer amazing grip. You can sip your favorite cocktail while looking particularly urbane. Our reviewers were all keen to get their hands on these!
These are made from high quality European lead-free crystal with amazing clarity. The packaging is exceptional and it's not often you see cocktail glasses that come in an embossed, magnetically closing presentation box. They nestle comfortably inside well-cushioned alcoves. It's little wonder that we could see these being given as wedding presents or anniversary gifts. The price is more reasonable than you might imagine and this is due to their being machine-made – but with this level of craftsmanship it's not obvious.
The twisted glasses hold nearly 12 ounces of your favorite cocktail. At just a whisker over three inches tall these weighty, wide glasses are spacious enough for plenty ice to ensure that your drink is crisp and tasty with every sip.
If there is a downside to these beautiful glasses it's that you won't want to serve any cheap liquor in them! Ashcroft has really raised the bar with these (pun intended).
[amazon box="B01MZ0CJJB"]
Dragon Glassware Tilted Dragon Self-aerating tumblers set

The Dragon Glassware Tilted glass smacks of being a physics-defying tumbler with its 50-degree design. It looks so wrong, as if at any second your lovely drink is going to spill all over the bar. And with a capacity of 10 ounces you wouldn't want to have to clear up that much liquid. Dragon's literature draws attention to how this glass isn't going to embarrass you by tipping over but you always feel just that little bit wary!
The internal angles of the glass allow for unique aeration as you pour your shaker's contents into the vessel. Our reviewers enjoyed the feel of the Dragon, it seemed very durable and the glass was very thick, though not clumsily so. They are well-made both dishwasher and microwave proof (but why you would want to microwave it is a mystery to us). Fired at 7,000 degrees there is little chance of an accidental knock being enough to cause any chipping or cracking. The glasses come as a pair in a sumptuous gift box that will leave you wondering if you should by a second set to keep one for yourself. They are handmade too which is nice to know although it is getting increasingly harder for the untrained eye to tell.
As a company we like Dragon Glassware's 30 day no-quibble money-back guarantee and how their products ooze luxury and shows off your flair as an owner.
[amazon box="B01MZGRPM6″]
History Company Old Knickerbocker Bar 'Top Hat' Cocktail Glass set

(Editor's choice)

If our nation's tales of times gone by and its speakeasies interest you then the History Company's Old Knickerbocker Bar retro offering is an essential purchase. This twin set of vintage-style affordable glasses are an authentic reproduction of cocktail glasses from the Old Knickerbocker Bar. The Morgantown Glassworks pattern with the stem taking on the shape of a stylish gentleman looking resplendent in Edwardian top hat is a real talking point and a thing of beauty.
These glasses benefit from the design's inherent low center of gravity. The flat-bottomed bowl also adds to their stability. They enjoy a great heft and are also a pleasure to drink from. The Knickerbocker's capacity is 4-1/4 ounces held inside their 5-1/2 inch height and 3-1/4 inch diameter.
To supplement their nod to history the set contains a booklet covering John Jacob Astor's New York and The Forty-Second Street Country Club, an iconic symbol of American capitalism. So if you're looking for a glass that is full of character, echoes our heritage and serves as an excellent conversation starter, we have no hesitation in recommending these Top Hat glasses.
Editor's Choice
We simply had to award the Top Hat cocktail glasses an Editor's Choice – they are beautifully made, stunning to look at, a home bar feature, iconic, informative and excellent to drink from!
[amazon box="B01G7P37X8″]
RSVP Endurance 18/8 Stainless Steel Glass set

With more than a passing resemblance to a jigger the RSVP Endurance 'glasses' are a break in design. These aren't what you expect your drinking vessels to look like. They are made entirely of 18/8 stainless steel, a polished interior and a brushed steel exterior. 18% chromium and 8% nickel in the steel makes them rust-proof and dishwasher safe. Their shape is modern and appealing to anyone wanting a home bar where contemporary design cues segue effortlessly with functionality and a hint of class.
On test our set of four arrived well-packed and, of course, unbroken. These are aimed at the cocktail enthusiast who prefers not to have a huge drink in their hand. The Endurance has a capacity of 4 ounces, a height of 3.5 inches and a base of 2 inches. They are well-weighted too, a low centre of gravity making them stable. You can keep them in your freezer ready for your next drink – they certainly help your Martini stay ice-cold! On the subject of the cold, it is the one drawback of having a metal 'glass' – we noticed our hands getting cold quite quickly and also the metal tends to sweat more than a regular glass. But the positives outweigh these caveats – their being metal means that they're never going to break nor chip. They can be handled roughly and stored with less stress than your favorite crystal stemware.
[amazon box="B016IUKM0S"]