Often used but often overlooked – the humble jigger is the quintessential measure for preparing your favorite cocktail but what do you need to look for in the best jiggers? Coming in double-ended egg-cup shapes they typically have a 1 oz and ½ oz capacity gauge or a 1½ oz and ¾ oz measure. European jiggers are metric and differ in volume and you will still find variations in capacity with jiggers in the States when it comes to measures made in 'shot' volumes. The best jiggers will bear multiple measurement markings with useful increments but sometimes these don't include all the useful volumes such as the a quarter ounce. They are typically stainless steel but other metals, finishes and materials are used and some possess design tweaks or innovations to improve the owning and using experience.

There a several types of jigger from classic to Japanese, each with its own unique shape, pros and cons.
Classic double jiggers
The classic double jigger is arguably the most popular – and recognizable – unequal hourglass-shaped design. One bowl accommodates the smaller measures while the larger bowl usually goes up to 2 oz. The double jiggers are usually the most affordable and easy to find but their larger diameter rims make them easier to spill.
Winco Jiggers steel double jigger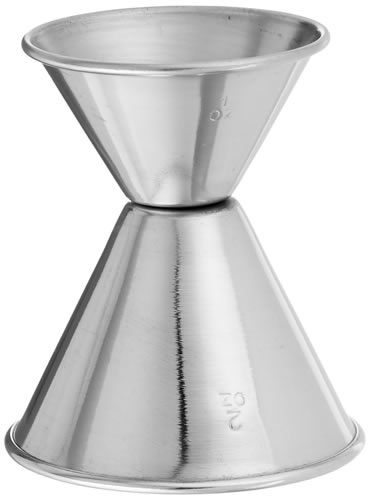 This simple stainless steel jigger is a staple of any home bar. Priced around $5 or less it's handy to have at least one in your possession even if you prefer the more showy designs. The Winco does a great job, with a rim that makes it easy to pour without dribbling. The brand is well-known and reliable with a huge range of hospitality and kitchen products, the double jigger is a welcome essential. It's a robust item that will survive regular use and you won't mind if it picks up a few dings along the way. The 1 oz diameter is around 2 inches and the 2 oz measure is 2.5 inches across.
[amazon box="B00080B07Y"]
Bonny Bar stainless steel double jigger

This affordable jigger has a brushed stainless steel interior and reassuringly thick walls so that it feels like a well-made product. It's dishwasher proof as you would expect with its 18% chromium / 8% nickel steel alloy composition. The measures are of 1 oz and 1.5 oz. The Bonny Bar jigger is a two-piece construction which is a consequence of the low price point but the seam isn't too obvious. This aside, the jigger's finish is of a good standard without any untoward marks or scratches. It's a little taller than 3 inches and it's 1.75 inches at its widest diameter.
[amazon box="B004BDOJ36″]
Pedrini Double Jigger

Fiery, passionate décor meets the metallic red of the Pedrini double jigger. Showing that there is indeed a complementary color scheme for bar tools and your choice of home bar furnishings, this jigger will harmonize with hot overtones for your sizzling shindigs! The Pedrini is a two part jigger rather than a one-piece mold so it does have a distinct seam. On the plus side the stainless steel is excellent quality and it's totally safe to use in a dishwasher. Its capacity is 1 oz and 2 oz and it's a neat six inches in height. This good-looking jigger is a delight to use, pouring easily and cleaning up effortlessly.
[amazon box="B005NKJTMC"]
B. Weiss Copper Double Jigger

For the ultimate in copper jiggers look no further than this stunning B. Weiss double jigger. Made of 100% top quality copper this is a premium 22-gauge thick-walled bar tool. Inferior copper jiggers tarnish over time and copper itself is toxic in large doses. The B. Weiss trumps the competition by coming with a food-grade lacquer coating that seals it against discoloring and also keeps it separate from the cocktail ingredients you'll be drinking. The interior is brushed copper and its exterior is a tactile, hammered and polished affair. These jiggers keep their luster long after purchase! The cups are a 1 oz and 2 oz measure that you fill to the brim to be accurate.
To top off this excellent jigger is that it is presented in a rather attractive presentation box. If there are any downsides to this jigger it's that there are no other intermediate markings.
[amazon box="B01N6PKPX4″]
OXO Jiggers

The double OXO jigger is a familiar sight in many home bars. The rubber grip makes for a reliable hold and ease of flipping. It also helps keeps your fingers warm – a welcome feeling when you've been mixing with many frozen cocktail shakers! The stainless steel is perfectly dishwasher safe; the rubber grip is well-sealed and doesn't allow water to get behind it. The markings are laser-etched and are 1.5 oz, 0.75 oz and the unusual one-third measure. On the second cup the measures are 0.25 oz, 0.5 oz and 1 oz. The maximum volume on both cups is achieved by filling to the brim.
[amazon box="B0036X4YOG"]
Crafthouse by Fortessa Fine Beaked jigger

Designed by World Champion bartender, Charles Joly, the Crafthouse range by Fortessa is well-respected in the home bar arena. They take design cues from the 'golden age of cocktails' and Prohibition Era style to influence their amazing range.
Unlike the more common shapes this double jigger (it can be turned over to reveal an eighth ounce measure) with a beaked spout is especially precise when it comes to pouring. It has interior measurement markings that go up to 2 oz and, although these are accurate, it can sometimes be difficult to see them in reduced light because of the narrowing shape of the vessel. On a positive note it's quite easy to use being gently tapered and the ring helps with grip. Its base is wide and this makes it particularly stable. It's a polished stainless steel bar tool that is safe to clean in the dishwasher.
[amazon box="B01M19BZIP"]
Japanese jiggers
These double jiggers are more elegant and more steeply sided. Although they are slightly more expensive than their rivals, their smaller diameter rims make them easier to pour and less likely to spill. They are favored by professional bar tenders and home bar enthusiasts because of these benefits.
HIC Japanese-Style Double Cocktail Jigger

This budget-friendly Japanese double jigger is a great entry-level bar tool. Made from 18/8 food grade stainless steel this 4.75 inch jigger looks the part despite its low cost. HIC (Harold Important Co) has a great reputation as a manufacturer of quality items and this appears to have spread throughout their entire range not just their premium level products. Its brushed steel finish looks good and the internal grooved measure markers are accurate but not always that easy to read if you don't have good eyesight. The larger cup takes up to 2 oz, the smaller cup takes up to 1 oz. Both have incremental gradations at half and three quarter oz intervals. Another bonus is that there is enough space left when at full capacity that you can easily pour it without spilling a drop.
[amazon box="B00X08P2TI"]
Cocktail Kingdom Japanese Style Jigger

Commanding a higher price, the Cocktail Kingdom jigger is a gorgeous bar tool to behold. Its glossy gunmetal black finish and clean lines make it a stylish accessory for any professional or home bar. Internally the gradations are cleanly etched, a complete circumference and easy to read. The cups are a 1 oz and 2 oz measure which pour really nicely even well full.
[amazon box="B01M10IB01″]
VKING Double Cocktail Jigger

The VKING Japanese-style double jigger looks and feels every bit the premium product. Finished with a polished golden sheen, this jigger certainly stands out against its more reserved compatriots. It bears clear measurement markings ranging from 0.5 oz through to 2 oz and includes the useful 0.75 oz too. We wish it also carried the 0.25 oz marking as this is useful for syrups. Nevertheless, the volumes are accurate and it pours crisply. The jigger has a good heft and balances nicely between the fingers. It gives you a professional air and certainly made our reviewers feel like their cocktail-making was more nuanced! Aftercare is definitely a hand-wash and hand-dry so as to preserve the finish although the stainless steel is certified as dishwasher-safe. Some of our reviewers feel that the internal etched measure lines could be a little deeper so they can be made out a little better in low light.
As a company VKING is approachable and offer a no quibble money back satisfaction guarantee if you are in any way unsatisfied with the jigger.
[amazon box="B016ZFT3M4″]
Prince of Scots Japanese jigger

The Prince of Scots jigger is the archetypal classic Japanese design, with clean lines and topped with a subtle brand mark. The jigger comes in two styles, one with interior measurement markings and one without. On the marking-free jigger you have a 1 oz cup and a 2 oz cup that you fill to the brim for an accurate measure. The jigger is a shade under five inches tall. It's a great-looking bar tool and the copper finish on its stainless steel body really makes it stand out on your counter top.
[amazon box="B071H7WHVJ"]
Single jiggers
The single jigger is pretty much a shot glass (tin) with gradations for small measures up to large measures. It's a stable jigger that doesn't have the style of its competitors but can be used as a drinking vessel in itself. Price-wise they won't break the bank either.
Homestia Jigger Oneside

Coming in gold, silver or rose finishes, the Homestia jigger is a beautiful example of function and flair. The external and internal gradations are clear and progress in half ounce steps from 0.5 oz to 2.5 oz. Yes, all the way up to 2.5 oz – quite a serving! Even at 2.5 oz there is still some free space to help prevent spillage. The material is the industry standard stainless steel and is certified as safe for use in a dishwasher too although you might prefer to hand-wash and dry so as to preserve the sheen. For your European friends the gradations are also marked out in milliliters. This jigger stands out from the crowd with its stylish looks, mirror finish and wide, stable base.
[amazon box="B06XKCFVYZ"]
Bell jiggers
These double jiggers have a wide bell for a measure and also possess a distinct neck between the two. It's this neck that enables you to get a good purchase on the jigger for ease of pouring. This type is particularly stable thanks to the allocation of weight and low center of mass. Pricing varies with design and marque but expect to pay an extra premium for these rather stylish offerings.
VKING Golden stainless steel bell jigger

Are you in the market for a sculptural, stylish statement? Thought so. Then look no further than this jigger that takes its design cues from medieval goblet. This double jigger is stunning and is sure to get more than a few compliments from friends. The fine etched interior lines serve utilitarian purposes – the measuring – but also are carried on to the exterior to look part of the intentional design, a real faultless blend of form and function. Thanks to the weight, this bar tool pours accurately and its width gives it great stability. Evidence of its quality is apparent with it being a thick-walled seamless, single mold. As with all the stainless steel offerings from VKING they are rated dishwasher-safe but the recommendation is to clean and dry them yourself to ensure the mirror finish looks awesome use after use. This bell jigger has easy to read gradations which stand out well on the brushed stainless steel interiors. The only tricky issue of this jigger is that the measurements are metric, the smaller cup has a capacity of 30 ml with markings at the 15 ml and 25 ml points. The larger cup takes up to 60 ml and bears a measurement marking at 45 ml.
[amazon box="B01I5FATUW"]
Kotai Black Bell Jigger

Another great-looking contender for your bell jigger choice is this sexy black number from Kotai. Kotai is well known and respected producers of quality barware and this glossy bell jigger is no exception. It's a 1 oz / 2 oz standard size with elegantly etched interior measurement lines that stand out well even in low light. The smaller cup has markings at 0.25 oz and 0.5 oz while the larger cup carries a 1.5 oz measurement. We love this jigger for its ease of flipping it over between your fingers – making us feel like true professionals! As with the VKING, this bell jigger is a seamless one-piece product, no welds on show here. Over the course of our time with the Kotai we found it to be robust and despite a few drops it came out unscathed. We certainly feel confident that it will maintain its classy looks for a long time (even if you are as clumsy as us!)
[amazon box="B01CPSPV2Q"]
Cocktail Kingdom Leopold Jigger

Our third bell jigger is this stainless steel high quality model from Cocktail Kingdom. It's a gorgeous jigger that gives a lovely tone if you tap either cup with your finger. The capacities are 1 oz and 2 oz and we were pleased to see the return of the 0.25 oz measurement! The quarter-ounce level is too often overlooked by bar tool manufacturers. If you do use it to add a high viscosity ingredient like a puree or honey remember to add it last so as not leave any residue behind that will make subsequent measures inaccurate. Speaking of accuracy, you won't have any issues with this jigger; the volumes shown are spot on and easy to judge. The Leopold Jigger's maximum volume are by filling to the brim – it's a matter of personal taste whether you prefer this style or to have a bit of leeway.
[amazon box="B07142V6NV"]
Novelty jiggers
To tempt the eye and catch the imagination there are the occasionally stylish, often amusing and sometimes useful additions to the jigger market. Here are a few of our favorites and some fall into the category of what could you buy a cocktail lover who has everything?
Rabbit Adjustable Jigger

If you're not keen on double jiggers or having a struggle to make out the different measurement lines then this single jigger may be ideal. It adjusts to different volumes by means of a pseudo-telescopic design that uses a rubber gasket to provide a good seal. Early release models had problems with leaking but the recent model we tested was fine throughout. It's certainly an unusual way to measure volumes if you're used to the traditional jiggers. You simply pull the jigger to the desired measurement and this is made easy with a great little transparent window. The markings go from 0.5 oz to 2 oz in straightforward increments. Its wide base makes for a stable platform although it means you have to be a bit more precise with how you fill it if you are keen to get an exact volume. It can be used as a shot glass if required too. To care for your product you do need to hand-wash, it won't survive long if you try to put it through a dishwasher but to be honest most jiggers are best hand-washed anyway so we don't feel this is much of a drawback.
[amazon box="B00NOPV796″]
Fred & Friends Top Shot trophy style jigger

Fred & Friends have a special place in our hearts – we love seeing what products they come out with as they are always fun and unique. This trophy-style one is no exception and is marketed 'for trophy-worthy cocktails'. We quite agree! Okay, it's not going to win any awards if you're trying to portray the air of a serious mixologist but if you want a talking point and to generate a few laughs then this single jigger is perfect. The golden appearance looks attractive and is sure to help you make winning (sigh) drinks. It is marked at the 0.5, 1 and 1.5 oz volumes for common measurements but we would have liked to see a couple more added for completeness.
[amazon box="B06XR24FSX"]
Franmara Plastic Double Jigger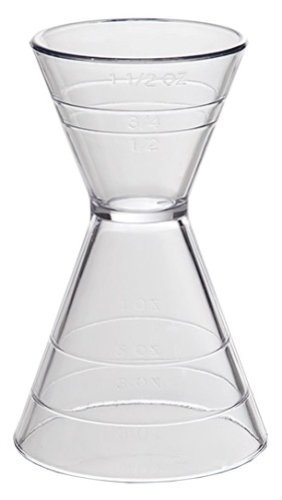 If metal isn't to your liking or you want something with the benefit of being transparent then the Franmara clear plastic jigger may appeal. More than just a generic shot glass, the twin measures are graduated with 1, 2 and 3 oz on the larger cup, and 0.5, 0.75 and 1.5 oz on the smaller cup. It doesn't feature a 0.25 oz volume. The maximum volumes require you to fill it to the rim which can be useful as you don't need to look for any marking. Being a good grade of plastic the Franmara will take a lot of rough treatment and is very easy to clean and use. We would like to see future versions of this product come with colored marker rings or more pronounced rings but this is a small quibble.
[amazon box="B00DJXVZMW"]